Total Communications Unveils New Brand Identity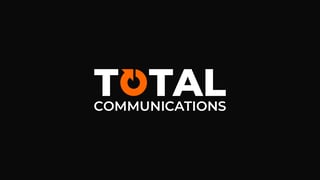 EAST HARTFORD, Connecticut, September 15, 2022 / — Total Communications (www.totalcomm.com), the premier digital solutions and technology service provider in the Northeast, has launched an extensive corporate rebrand in response to the significant transformation that has taken place across the organization over the past 10 months. Founded in 1980, the company was purchased as a wholly owned subsidiary in 2015 by Frontier. However, at the end of 2021, Total's Chief Executive and President, Scott Lennon, purchased 100% of the business back, re-establishing it as a privately held company.
Strategically positioned between Boston and New York, Total remains on the cutting edge of technology and continues delivering the best solutions as the right-sized partner for their clients' customized needs. Along with an updated corporate logo, at the heart of the rebranding is a renewed sense of purpose, energy, and enthusiasm to this promise.

"The new logo is an important part of Total's new brand identity as it connects the company's exciting future with its proud past. Representing protection and defense, the purpose of an arrow is to hit its target. Total is committed to helping our clients hit their goals, while also providing them with solutions that protect their technology and data infrastructures. The circular shape symbolizes our full-service approach and dedication to advancing forward," said Lennon.

As a company on the move, Total's refreshed brand is building off the expertise of the past 42 years and integrating a forward-looking strategic mission of empowering organizations to reinvent and optimize their use of technology, to maximize investments and achieve their goals.

Celebrating the launch with a ribbon cutting, Total welcomed Mayor of East Hartford, Mike Walsh, State Reps. Jeff Currey and Jason Rojas, and leadership from the CT River Valley Chamber of Commerce.

"As we increasingly operate in a technology-driven world, the expertise of leaders such as Total Communications is needed to help deliver actionable, objective insight to executives and their teams. Under their advisement, companies will be in the best position to move forward," said Rojas.

Along with the new branding, Total will be launching a new website in the first half of 2023. In addition to providing a more in-depth understanding of the company and its full range of services, the improved site will also serve as a valuable resource to organizations looking to strengthen their own technology infrastructures.

About Total Communications
A national company, Total Communications has been a part of the state's economic fabric since 1980. With a depth and breadth of experience in Networking and Wireless, Cybersecurity and Disaster Recovery, Cloud Infrastructure and Software, and Collaboration, Total delivers an unrivaled commitment to clients by leveraging strong industry-leading partnerships with the ease of single-point of contact to ensure optimal reliability, productivity, and value.

As a trusted advisor to organizations of all sizes, Total helps them plan, develop, implement, protect, and support their business operations through transformative technology solutions. Additionally, holding one of only two of Cisco state contracts, the company also provides services to roughly 50% of Connecticut's municipalities.